Shipping and delivery estimates are displayed on the product page and in the checkout before you confirm your order. The estimated delivery date provided is calculated based on your default delivery address and the product you are viewing.
The thumbnail preview will show you the shipping and delivery times for the fastest courier service that product can be sent to your address with;
The product page and checkout will show all available courier options, including standard delivery;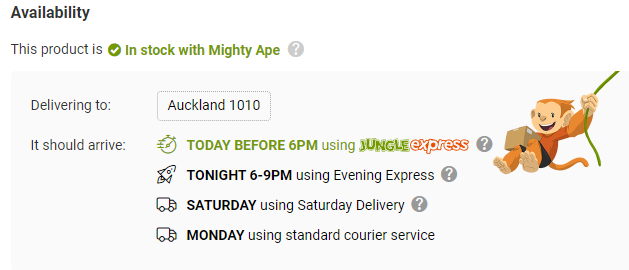 Shipping and Delivery estimates take into consideration both the default delivery address on your account and the types of products being ordered. When previewing a product's thumbnail, the advertised shipping or delivery time frame is for the fastest available courier option to your address at that time, which may be an optional paid upgrade or a standard courier service.
Standard delivery estimates will be presented on the product page, along with standard service and other upgrades, below the item's photos. Your desired courier option will need to be selected in the checkout, if you do not select an upgraded option the default standard delivery service will be used.
Upgrade Eligibility
If your default address or the product you are ordering is not eligible for certain services, these will not be advertised to you on the product page or in checkout.
Some addresses and products are only eligible for standard shipment.
Products dispatched to you directly from our supplier or an external warehouse will not be eligible for most upgrades.
Please note; Pre-Order listings, Products available directly from our supplier, and other products not in stock with Mighty Ape will only show an estimated shipping time frame and an accurate ETA will be provided once your order has been dispatched.
How do I add a default delivery address?
Your default delivery address can be set at the top of the Mighty Ape website, to the left of the trolley button;
Adding your address here will calculate and provide you with the most accurate delivery ETA for each product advertised!