To use methods such as Afterpay, Humm, Zip or Klarna, these payment methods would need to be shown on the item's listing, located underneath the item's price, as shown below.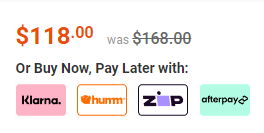 Some of these methods have a minimum and/or maximum order limit too. For example with AfterPay, if the total of your order is under $100.00 or over $1000.00, AfterPay cannot be used to pay for the order.
You would also need to use a verified address in order to use these payment methods, and you can read more about setting that up here.