Mighty Ape Checkout
The Checkout is where you choose the address to have your order delivered, how you want your order delivered and how you want to pay; Alternatively, if your order is eligible for collection, you can choose to pick up from our warehouse instead!
Click here to learn about pick up orders and how to place them.
Creating an Account vs. Proceeding as a Guest
To use the Checkout, you can either log into your account or proceed as a Guest.
If you don't want to create an account, you can proceed through the Checkout as a Guest. Some customers prefer to use the Guest checkout because it's generally faster for your first order and it means you do not need to create and remember a password. If you proceed as a Guest, you can choose to create an account at the very end of the checkout process.
Creating an account has the advantage of saving your delivery address and credit card details (optional) so that you can reuse them on future orders. This makes shopping faster and easier. Account-holders can also track the delivery status of their order from My Account.
Below, we will show you how to easily proceed through checkout!
ADDRESS

The address section of checkout is where you can choose an existing address or add an address where you want your parcel to be delivered to. Alternatively, this is where you can opt to pick up your order instead!
SHIPPING

Once you have selected your delivery address, we can now look into the shipping options available to us and the total cost of shipping! (Note, if you need to change your address again, it's not too late! Just click the "ADDRESS" section again and you can change it from there).

Delivery services and upgrades available in checkout will be presented on this page. If you expected a shipping or upgrade option to to be available but it is not advertised, i.e; Saturday Delivery, it sadly means that this option is unavailable at that time or your address/product/order is not eligible for that service.
A total of your order including the shipping fees will be presented to the right of the page.
PAYMENT
How would you like to pay for your order? We have heaps of options available!
Before you proceed with a payment option, if you have a promotional code or gift voucher, hit the button which says "Enter a gift voucher or promotional code" and enter it there for a discount on the total price.
If you have account credit available but do not wish to spend this, you can untick the "Spend my account credit" button so this will not be used against your order.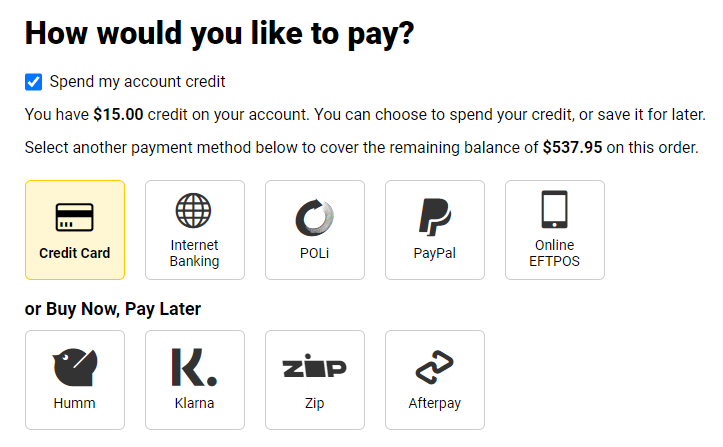 As well as the payment options presented at the top, we also have some Buy Now, Pay Later options too! If your order is eligible to use these types of options, then they will be presented to you in checkout.
Please note that if one or more of these options does not present itself, it means your order is sadly not eligible for these services.
Once you have selected your payment method, you will be asked to input these payment details or prompted to make payment at the end of checkout through a redirection or email.
REVIEW & PLACE ORDER

This is where you can review your order and make changes if required.
If you're happy with everything, click the "Place Order" button so we can send you a copy of the details and get this to you as quickly as we can!